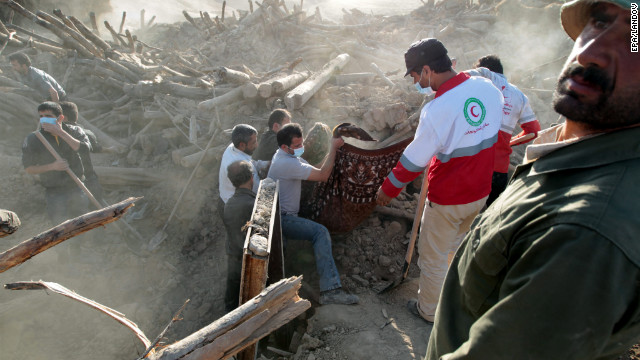 Thousands of earthquake victims in Iran struggled to cope up with what is left in their lives as rescuers help reach remote areas hit by two powerful earthquake last Sunday leaving 300 killed and about 5,000 people injured.
Each day, it reveals that more and more people need help since most of their homes and livestock were demolished by the earthquake. Lack of food, tent, clothing, food and blankets are the reason why some victims didn't managed to survive. 
According to officials, towns in Ahar, Varzaghan and Hareez which are all near the city of Tabriz had the most casualties, leaving the area nearly destroyed. Some of the bodies are still lying on the streets waiting for immediate families to identify them and some were still missing.
Hospitals around Tabriz are fully loaded with injured victims and some survivors are still waiting in vain for treatments since they can't managed to transfer to other hospitals because more and more hospitals across the city are full. There are still villages that are hard to reach by the rescuers which made the officials turn to bringing first aid to them instead of bringing the victims to the hospitals. Some rescuers even donated blood for the benefit of those in need of it. About 1,100 Red Crescent workers and 100 ambulances were deployed around the areas that are affected, they have given 44,000 food packages and 5,000 tents to the victims however, they still need more. They need more food and water.
The first earthquake last Saturday was measured at 6.4 magnitude and struck 60 km (37 miles) northeast of the city of Tabriz. 11 minutes later, the second earthquake was measure 6.3 and struck 49 km (30 miles) northeast of Tabriz. More than 1,000 villages were affected by the earthquake, leaving 70 percent damage to 130 villages  and 20 villages were completely destroyed leaving  16,000 people homeless and counting. Most of the survivors don't want to go back to their cities for fear of aftershocks. Most of them were traumatized.
Rescue efforts for now have stopped in some areas to give priority to survivors who are in dire need of medical attention. Some survivors have broken arms and legs and were treated outside the hospitals, it was seen on television how villagers were distraught by the earthquake physically, spiritually and emotionally. Most of them sleep in the streets, shivering in cold and still crying.
Officials have announced two days of mourning in East Azerbaijan province. Some countries have offered aid. The government said as of press time that they will allocate funds to help the victims rebuild their homes and also their lives.